The Association for Mathematics Education of South Africa (AMESA) is the professional association of mathematics educators in South Africa. AMESA Western Cape hosts regional conference in September each year. This year's programme catered for teachers ranging from Foundation Phase to FET college lecturers.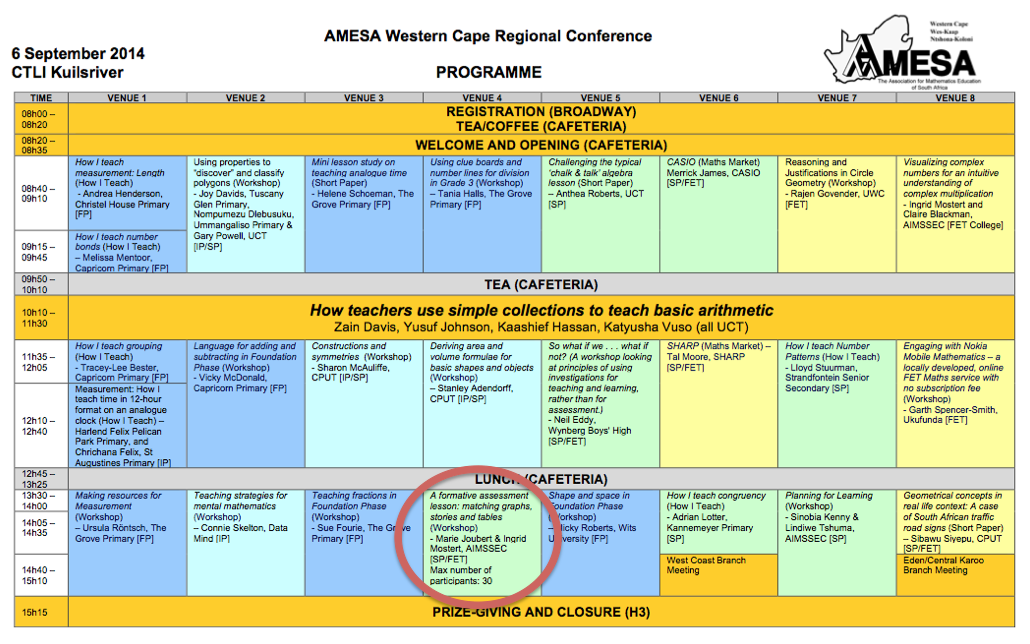 Ingrid Mostert led a workshop about FaSMEd in the afternoon session from 13:30-15:00. Overall, the purpose of the workshop was to widen awareness amongst teachers of the FaSMEd project. More specifically, the workshop aimed to extend understandings of formative assessment.
The workshop was attended by 14 participants and Ingrid began by providing a brief outline of session, explaining that it would begin with some school mathematics. She asked each of the two groups to open the folder on their table, remove the question sheet 'Journey to the Bus Stop' and to work in pairs to complete the questions. The questions on this sheet are designed to provide the classroom teacher with knowledge about their learners' current levels of understanding about the topic, in this case interpreting time-distance graphs. They are then able to write some questions on each learner's sheet, which will help the learner move forwards.
However, as the audience in this workshop was the teachers, who would already have much of the knowledge these questions were designed to assess, it seemed to make more sense to ask them to work in pairs and to discuss how their learners might respond to the questions.
The groups were then asked to find the two sets of cards in their packs and to work together to match graphical representations with narratives, or descriptions.
One pair of matching cards.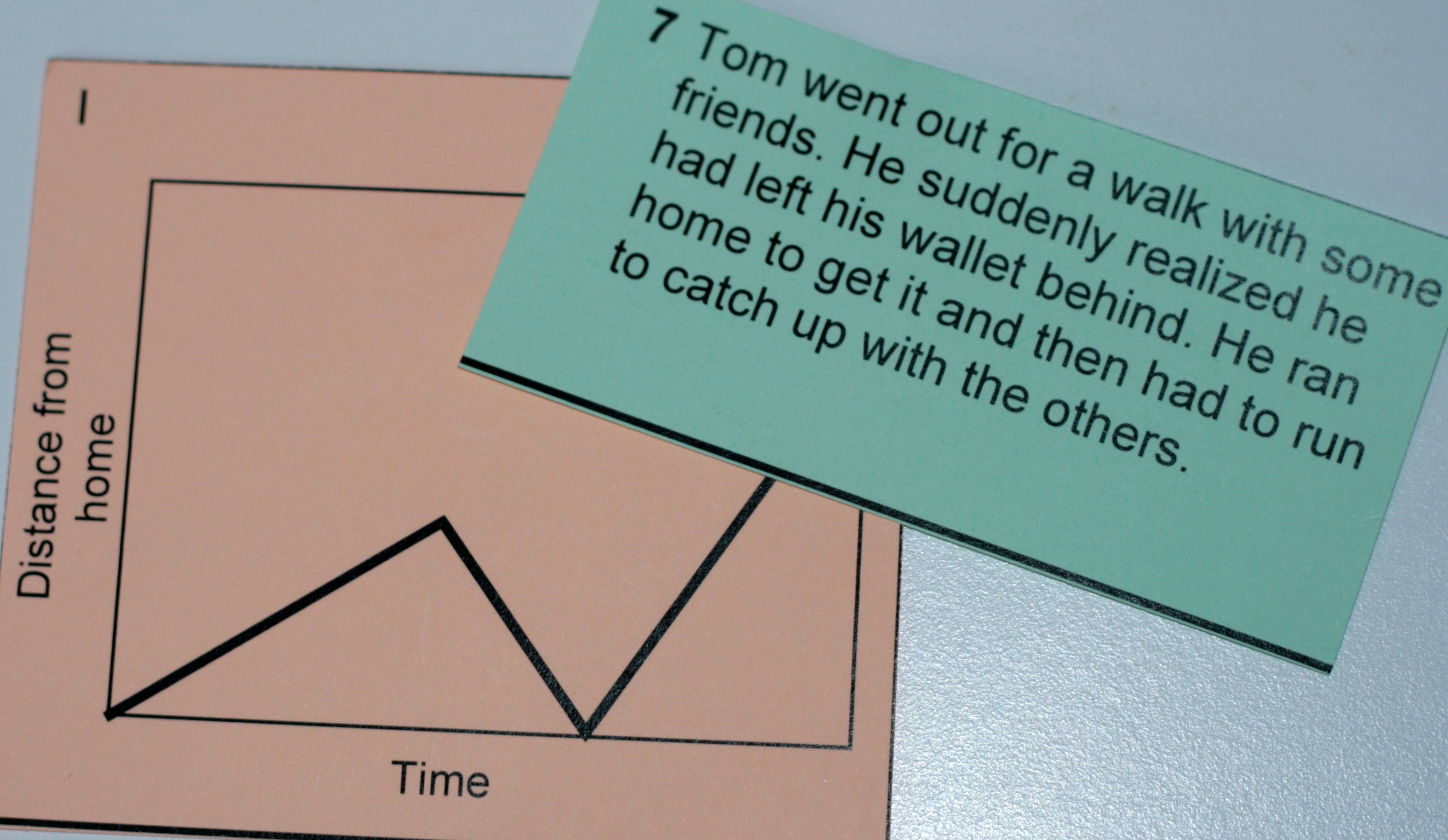 As they came to the end of this task, they were given a further set of cards, this time with tables of data, and asked to match up the tables of data with the pairs of cards.
Two sets of matching cards.
The teachers appeared to enjoy working on the task: they became very engaged and there was much discussion, disagreement, moving cards around and so on, until solutions were finally agreed. Once everyone had matched the three sets of cards, the answers were shared.
Ingrid then explained that the activities: the initial questions and the card matching activity, were taken from a lesson designed as a 'formative assessment lesson' produced by the Mathematics Assessment Project team at the University of Nottingham, in the UK. She told them how the lessons are supported by guidance for teachers such as an outline lesson plan, common errors in the area and questions the teacher might ask students.
As the workshop is about a research project it needs to follow research ethical procedures. Ingrid explained that research participants need to be told what the project is about and they need to agree to take part. Having briefly explained, she asked them to complete the ethical clearance forms which provide an option for participants to a) agree to anonymous use of the data they provide and b) agree to FaSMEd using photographs of them in research reports, dissemination and publicity. It was made clear to the participants that they could choose not to agree to either or both these and that they would be in no way disadvantaged if they decided to do this. The participants then filled out ethical clearance forms indicating whether or not they gave permission for their responses to questions that would be asked to be used.
After this Ingrid went on to explain more about the FaSMEd project, explaining that it is a European project involving nine countries.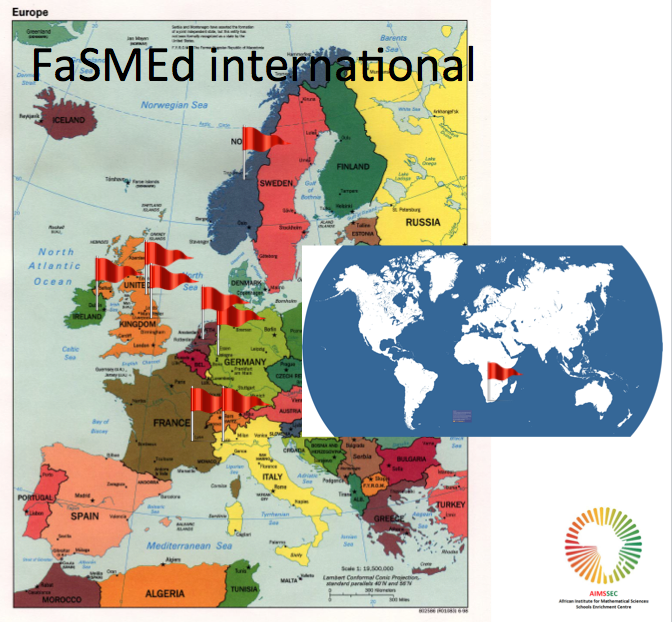 She explained that AIMSSEC's participation in the project involves working with teachers to develop a South African version of the toolkit which will be closely linked to the Curriculum and Policy Statement, CAPS. AIMSSEC will welcome any and all teachers who wish to participate in some way, and the level of participation can be negotiated. The only requirements for these teachers is that they are currently practising as teachers in a Grade 8 or Grade 9 classroom. AIMSSEC will however work with six to eight teachers intensively and these teachers will be selected from those who say they are interested. These teachers will be provided with appropriate digital technology to help them with the research. Ingrid told the participants that a meeting would be held at AIMS on 30th October 2014 at 3:30 pm for anyone interested in taking part, and asked teachers to provide their email addresses if they would like to receive an invitation.
After this questionnaires were handed out. These asked:
When do you assess your learners?
Why do you assess your learners?
List the different ways you assess your learners.
Describe where you saw assessment taking place in today's mathematics activity.
Teachers were asked to answer these questions, then to discuss in groups and then to share the key points.
The written responses will be analysed but here are some examples.
When and why do you assess your learners? (Examples).
 List the different ways you assess your learners. (Examples).
Describe where you saw assessment taking place in today's mathematics activity. (Example).
After the participants answered these questions, Ingrid facilitated a group discussion to allow teachers to share their ideas. In particular the reason why teachers assess learners was discussed and Ingrid pointed out that one can do assessment  for learning (when doing formative assessment) and assessment of learning (when doing summative assessment). The group discussion also highlighted the fact that assessment for learning needs to have an influence on what a teachers decides to do next and that assessment for learning is important as it is never guaranteed that learners will learn exactly what a teacher hopes they will learn.
The participants handed in their responses and filled in the register before they left.
The following feedback was received via email from one of the participants:
As mathematics educators, we need to continuously meet together and be resourceful to each other then the mathematics in us will improve. The FaSMed workshop conducted by you were really effective and very clarifying and I really enjoyed the activities. I also enjoyed the way you encouraged us to take control of  learning in the workshops and that we were resourceful to each other.
NOTE: teachers who were not present at the workshop, but who would like to find out more, should contact us (below).
[contact-form to='fasmed@aimssec.ac.za' subject='I%26#039;d like to find out more about Fasmed'][contact-field label='Name' type='name' required='1'/][contact-field label='Email' type='email' required='1'/][contact-field label='Tick here if you would like us to contact you.' type='checkbox'/][/contact-form]