The Southern African Association for Research in Mathematics, Science and Technology Education (SAARMSTE) conducts research capacity building events across the region for people interested in MSTE. It holds an annual conference and publishes the African Journal for Research in Mathematics, Science and Technology Education (AJRMSTE).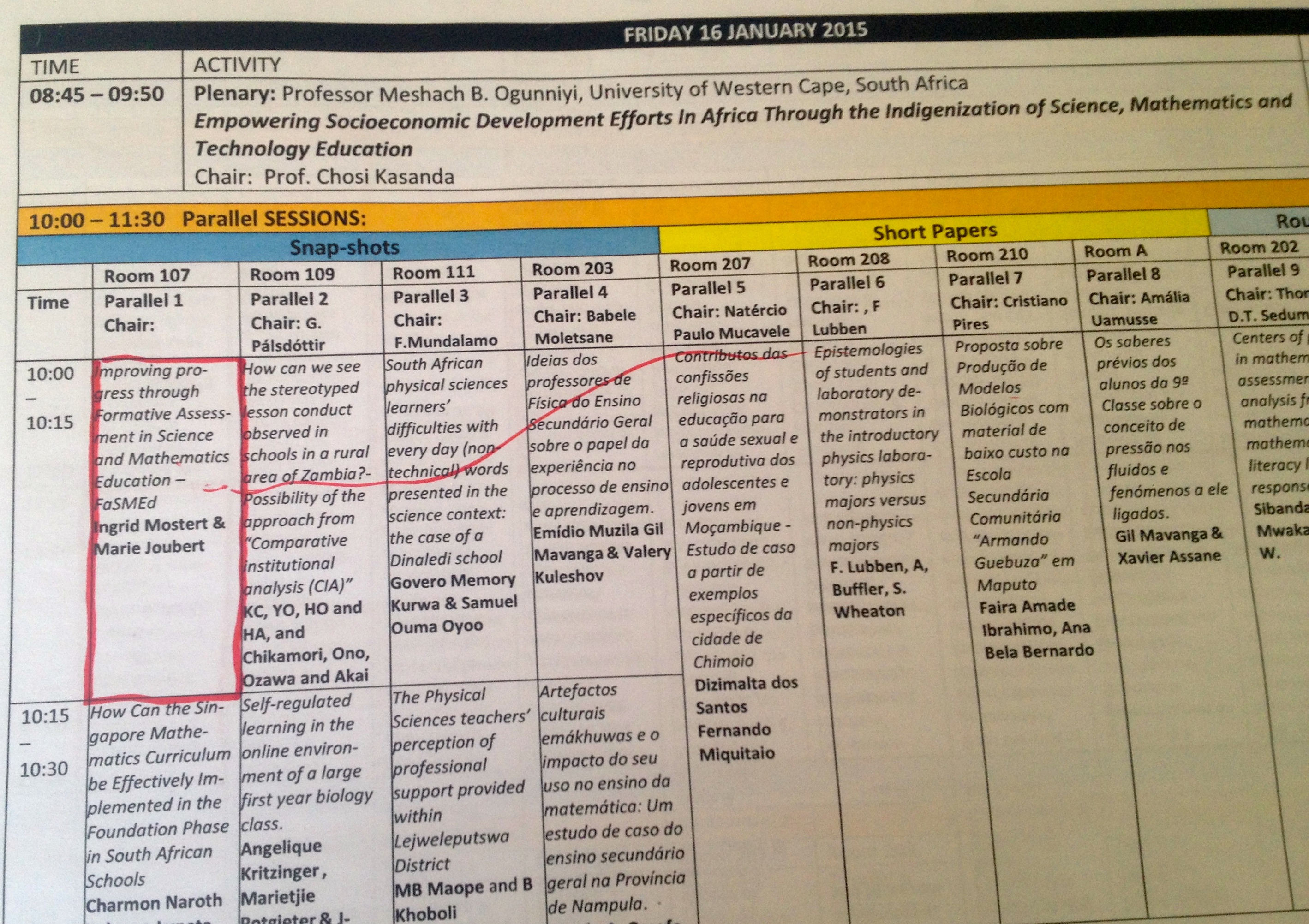 The 23rd conference was held in Maputo from 13-16 January 2015 and was attended by more than 200 delegates from 18 different countries. Presentations at the conference were either long papers (45min), short papers (30min) or snapshots (15min). The conference programme included 218 presentations, a symposium, various round tables, a meeting for the regional representatives as well the SAARMSTE AGM.
On the last day of the conference Ingrid Mostert did a snapshot presentation about the FaSMEd project. The presentation was scheduled for 10 min with 5 min for questions. Ingrid gave an overview of the project by explaining the rationale behind the project and why formative assessment is important; explaining the research approach and describing the schools that will be involved.
During the discussion after the presentation delegates asked about the types of activities that would be used in the project and whether the formative assessment was to assess a whole class or to assess individuals. Ingrid showed the time-distance graphs as an example of an activity and Marie explained that the activities could be used both to assess the whole class or individuals. Ingrid also pointed out that an important part of formative assessment was among peers and that these activities were designed to allow students to assess and support each other's learning.
Ingrid shared the link to this blog and to the toolkit and invited everyone to visit the sites and to comment.